Nov 20
Fri, 11/20/2009 - 23:49 — julie
This week we're changing gears and getting some great feedback for our authors from this week's interview with an avid buyer, chickscanfly. ThemeForest has also launched a brand new, long awaited category, Email Templates!
We'll get started with our buyer interview, check out some awesome Email Templates and catch up on much more you may have missed this last week.
Interview With Buyer Annie (chickscanfly)
Annie has purchased over 150 items from ThemeForest from a wide variety of authors. I've asked Annie a few questions to help authors get a new perspective on their buyers to help optimize their offerings and achieve more sales. Here's what Annie had to say.
Q #1: You've purchased over 150 items from ThemeForest. What is your primary use for these items?
A: "I should mention that I am 'addicted' to themes, all themes… I have been buying them for a few years as way for me to learn. I play with one for a few days, tear it apart, try things around and often mess them up..lol then go on to try something new. Buying themes has definitely been the best 'school' I could go to."
Q #2: When searching for a new item to buy, how do you go about the search process and what do you look for?
A: "First the theme has to appeal to me right away, the moment I read the description and hover my mouse over the image. I always look for the new special 'IT' feature, mostly in the WordPress category, the more integrated options in the theme the happier and excited I get!"
Q #3: What kinds of items, in terms of design and features, would you like to see more of at ThemeForest?
A: "Well I sure would like to see more ECOMMERCE themes, like in WordPress. One of the best and most complete estore template I ever purchased is by SRHNBR that woman is incredibly talented and her ESHOP are so detailed, not only in instructions but in her theme options and features. I about fell off my chair after buying 'The Clothes Shop' and saw the set up of the purchasing process… No need for any other plugins etc.."
Q #4: Which three items, of all the items you've purchased, are your favorite and why?
A: "Simply put, the best themes I ever purchased are from these designers and all their themes are incredible…All of the themes have incredible features, and these designers always come up with something NEW. Of course I haven't purchased ALL the themes on ThemeForest and I am sure many authors are also very talented, and to those I say 'Don't worry, I am sure I'll end up buying someday the way I am trending…lol' "
Q #5: What are five tips you would give to authors to help increase their sales, from a buyers perspective?
A: "Can I do more than five ?..lol Ok here they are, not necessarily in order.."
Some authors spit themes every week, and what you end up getting is basically Deja Vu, a close carbon copy of a previous theme just with a different name or color… That isn't fun and sooner or later people figure it out and quit buying. Most of us can modify theme colors etc… Produce less often but be UNIQUE. It will pay off more in the long run.
When you sell a theme on ThemeForest, I assume it's cause you want to make some revenue right? Well, you make a commitment to the buyers so just don't put it on and vanish or reply to your questions once a month. There is no bigger turn off when you are excited about a theme and you can't get answers. When I buy themes and ask for directions and get ignored, you can be sure I won't buy again, even if the theme looks great. What's a great theme good for if you are stuck and can't make it work?
Try new things! Even if it is "experimental" and may be bugged a bit. I will buy a theme anytime that has some kind of experiment going on or feature that hasn't been done yet, and I will gladly be tolerant to "glitch" and "fixes", as long as you authors are tolerant with us buyers asking for help. So many themes out there are just "The same"… Push It!
Try to include PSD files, they are always a big PLUS and it is something that does influence my decision when buying a theme.
Remember that a well detailed instructions PDF will save you a lot of time and questions from us buyers. Also be clear and what kind of support you are willing to provide with that purchase. I have read countless of comments on themes and many times I see buyers asking for help over and over about customization etc, and if you don't make it clear as far as how much you are willing to do, you can't blame people for asking… There goes the old saying "if you give them an inch they want a foot" Of course we should get some help, but on the other hand we shouldn't expect you authors to customize too much for a 25-45 dollar theme. Seriously, a custom theme can cost hundreds of dollars so if you are clear with buyers they will "I hope" respect that, and it will save you some aggravation. Also if you are willing to do customization on the side etc, say it.
A big attraction is also a recommended "plugins" selection to make your theme more functional, or any other insights you may have, even if they are only preference of yours. You guys are the experts so we trust what you do or say.
Q #6: Why would you choose to buy from ThemeForest over another template or theme marketplace?
A: "No insult Jarel but I think this is a NO BRAINER… I have purchased many THEME PACKS, where you sign up and pay a certain amount then you get all of their themes, which is good with some but THEMEFOREST is the MOTHERLOAD! There is no other place where you can find such a huge group of talented designer. What I love about it also is the variety of choices that you have all at the same place or a mouse click away. Being a theme addict and a self learner, ThemeForest is to people like me what Harvard is to Law students…get my drift ?"
R: I certainly do get your drift and I agree! ThemeForest is "the MOTHERLOAD"!
- -
Thanks for taking the time to answer these questions Annie! All our readers and especially our authors really appreciate it.
Notable Additions to the Forest
The long awaited Email Templates category has been launched and there are already some awesome new templates available. Designers! This is a brand new, untapped category. Now is a great time to submit an Email Template.
Here are four great Email Templates to make your life easier!
"CleanMail is a simple yet sexy email template package with 5 different color schemes!"
"Perfect for just about anyone – usable for everything from newsletters to eFlyers to whitepapers."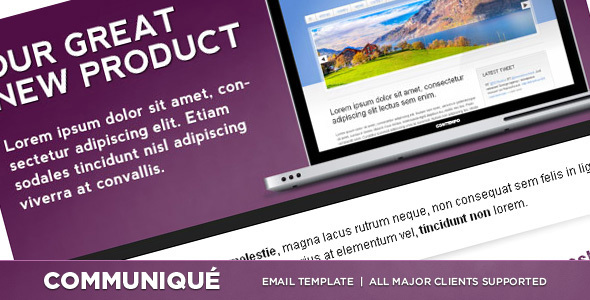 "Communiqué is a premium email template suited for just about anything from new product announcements to weekly newsletters."
"Modern Business 4 is a professional HTML email newsletter template. If you need a vibrant, strong and clean looking solution for your email campaigns to promote your latest product or service, this is the solution for you. With 3 different colors and both single and double column designs, you have many options."
Six More Fantastic New Items
Of course, there have also been some really amazing new additions to our other categories as well. Here are six more fantastic new items that have been added to the ThemeForest marketplace over this last week.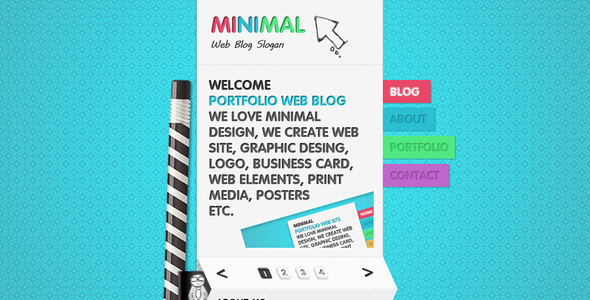 "This is very easily customizable minimal blog portfolio template."
"My 4th in a series of clean, modern corporate / business or portfolio websites (your choice as the design would suit any), however this new design also includes not just 6 webpages, but also 5 error pages, a coming soon / Under Construction page and an email newsletter template – my largest item package to date, and fantastic value!"
"fone is a website that is specifically targeted at e commerce/businesses, especially the selling of iphone applications. Of course, with tweaking it can be used for other types of commerce sites."
"This html is a valid xhtml 1.0 transitional is best suitable for a business, company, Blog, portfolio, or freelancer portfolio website as well as predefined classes used for the common websites."
"London Creative + comes with fully working contact form, awesome slider for your featured images, nasty spinning slider buttons (never saw them anywhere else, so you can call it unique), 2 message buttons under the slider and PrettyPhoto plugin (better clone of Lightbox)."
"Sofa One Page Folio is – just like it reads – one page WordPress theme. This theme is extremely easy to set up and maintain, there are no special requirements related to it and is fully settable via built-in theme options page.
I guess everyone who wants to create and manage simple portfolio site without the need for blog will benefit from One Page Folio theme."
More Great ThemeForest Items
These are some seriously great templates, themes and scripts but don't forget that there's lots more! View them here!
Blog Review
This week's fantastic blog posts.
Chatter In The Forest (Forum Discussions)
There's been lots of discussions on the forums this last week. Here's some notable threads you might've missed. Also note, I'm looking for 5 ThemeForest buyers for next week's interview, if interested– please see the last item (thread) on the list.
Web Roundup
There's a tremendous amount of information on the web and it's not always easy to find the cream of the crop. Here are some great tutorials and articles from around the web that are definitely worth checking out.
Even for experience designers, building email newsletters isn't easy. You receive a lovely looking design, and you crack on with the development. Unfortunately, it just doesn't work as it should in every email clients. Styles don't display, images aren't visible, etc.
This is where these twenty best practices come in handy.
Internet Explorer – the bane of most web developers' existence. Up to 60% of your development can be wasted just trying to squash out IE specific bugs which isn't really a productive use of your time. In this tutorial, you are going to learn about the most common IE bugs and rendering disparities and how to easily squash them or deal with them. Interested? Let's get started.
If you are the guy who uses
tag for everything, this post is for you. It focuses on how you can write clean HTML code by using semantic markups and minimize the use of
tag. Have you ever edited someone's templates, don't those messy tags drive you crazy? Not only writing clean templates can benefit yourself, but your team as well. It will save you time when you have to debug and edit (particularly the large projects).
Building your own wordpress themes will open your eyes to a lot of things, mainly the fact that you'll be retyping a lot of code over and over and over again. So in this post I am going to show you ten wordpress code hacks that you can add to your arsenal that will not only save you a lot of time, but they will also set your themes apart from others who don't come pre built with these types of features.
The concept of the left and right brain only lately popped up in the late 1960's, but since has become a well-known part of human psychology.
While we all use both sides of the brain, each of us has a dominant side, and this dominant side makes up for a huge part of our personalities.
Each individual thinks a certain way, has more interest in certain areas, and above and beyond all — is most effective in certain ways. An accurate understanding of the left and right brain can help one to become more productive, efficient, and creative.
This article will cover a basic understanding of what the left and right brains are, and each of their traits. We'll also go into how we, as creative people, can harness this understanding of the left and right brain to be more creative, as well as succeed in other work-related tasks.