Oct 10
Sat, 10/10/2009 - 00:28 — julie
New marketplace features, Google Wave and a new Envato marketplace WordPress plugin. There's never a dull moment in the Envatosphere, deep in the forest! Let's take a look back at the week and catch up on a few things you might have missed.
Notable Additions to the Forest
It's been a great week here in the forest and there's lots of fantastic new templates, themes and scripts available. They get better each week and it was difficult narrowing it down to just these! Let's take a look at eight great, new products the forest has to offer.
"Chocolate Flavor is a template with simple, elegant and minimalist style. It's fit for a portfolio website or a web design company."
"This is another layered .PSD template with Web 2.0 look&feel for Business Companies around a modern, sleek, gray+any color design. The file are good organized in folders with shape layers for easy to change color palettes or content (see last screenshot)."
"This creative theme is perfect for a modern business targeting younger individuals."
"This is a 3 column HTML template ideal for the designer who wants a portfolio along with a blog. Additional homepage template allows you to use this theme as a portfolio for the design studio."
"Eclectic Premium is a quality WordPress template perfect for showcasing a portfolio and hosting a blog."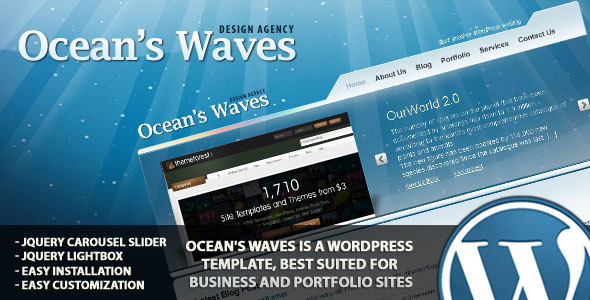 "Ocean's Waves is a Wordpress Template, best suited for Business and Portfolio sites."
"With jSocial you can easily place social share buttons under your articles and pages on your website. This script uses the jQuery framework and works completely client side. So you can use it on static and dynamic webpages."
"My Link Shortener is a fully featured base application to have your own link shortening tool.
It uses an incremental approach to shortening the URL , so creates an extremely short URL , so much so that by the time you get up to 4 characters, you will have shrunk just short of 1 billion URL 's."
But Wait, There's More!
These are some seriously great templates, themes and scripts but don't forget that there's lots more! View them here!
Interview With Author DDStudios
Dany is one of ThemeForest's very talented authors on his way up. This week I've asked him to answer a few questions for this week's "Week in Review" and here's what he had to say.
"First of all , thanks to Themeforest's staff for this. It's really appreciated to be honored by such a nice community because you guys know what is good work and it makes me feel really good to be the featured author this week.
I will give my best to answer these question but I have to say it feel really weird
!"
Q #1: When creating a new template for ThemeForest, what aspects are top priority and why?
A: "1 – Creating something unique even if nowadays it's very hard to come up with something totally new because it seems like everything has been done. Without re-inventing the wheel,
I always try to incorporate at least 1 or 2 things that are really unique (layout, colors, functionality, etc.) in every theme I do."
"2 – I want my themes to be as useful as possible. Usability is as important as design."
"3 – Having fun creating the theme. If I feel frustrated because I can't come up with any new idea, the result will be really bad so I always try to have fun."
Q #2: You are this week's featured author. What tips for success can you share with our readers that you feel have contributed to your success?
A: "I think my real success is my improvement, not really my sales. Over the past weeks I've been really inspired by authors like Epicera and Kriesi (If you don't know them yet, they are the Nadal and Federer of Themeforest
) and I worked really hard to produce some better themes because their themes are stunning and they succeed really, really well. I work hard everyday, I sit at the computer at 9 and I stop at 6. It's really important to have a work schedule when we freelance because it's too easy to get distracted."
Q #3: What do you enjoy most about the work you do?
A: "Being free! Seriously, building themes is the best job in the world. It makes me feel like I am crafting my little product that I will sell in my little boutique. It makes me feel really good. Designing is the part I love the most but I've seriously begun to love coding. It feels like giving life to the design and I love it. There is a lot of challenge in making themes and this is really motivating."
Q #4: What are some tips or words of wisdom you would like to share with our readers?
A: "18 months ago, I didn't even know what a photoshop layer was. I never took some design or coding classes. Everything I've learned is from the internet (lynda.com, psdtuts, etc). My advice is : Everybody can make money on the internet. Find something you can offer, something you love and that you are good at and start providing it by continuously improving your skills to get better and better. Also, take care of your health. I had some back problems lately because I didn't take care of buying some ergonomic stuff and I paid the price. Don't wait until you have problem to start taking care of your body."
Check Out DDStudio's Portfolio
Chatter In The Forest (Forum Discussions)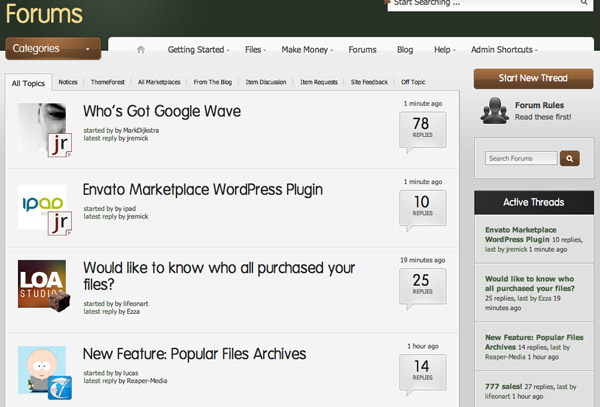 Here are some of this week's forum discussions worth checking out and chiming in on. See if you can get in on the Google Wave and make sure you also check out the new Envato marketplace WordPress plugin.
Blog Review
This week's fantastic blog posts; featured authors and awesome plugins.
Web Roundup
There's a tremendous amount of information on the web and it's not always easy to find the cream of the crop. Here are some great tutorials and articles from around the web that are definitely worth checking out.
Each day this week, we'll post five of the top twenty-five videos from the Nettuts+/Screenr competition. Your job, if you choose to accept it, is to review these short web development video tips and choose your favorite one in the poll below. How should you judge? Quite simply – there are no rules! Pick the one that helped you the most. The most chosen video each day will earn a spot in the top five at the end of the week!
This one is for those who are hoping to take their first steps into web design. This 70 minute Plus video tutorial will assume that you have zero knowledge of CSS. Over the course of the screencast, you'll learn about the basic syntax, a plethora of different properties, and how to create the beginnings of your very first website.
Clean. Easy to use. User-friendly. Intuitive. This mantra is proclaimed by many but often gets lost in translation. The culprit: complexity. How one deals with complexity can make or break an application. A complex interface can disorient the user in a mild case and completely alienate them in an extreme case. But if you take measures first to reduce actual complexity and then to minimize perceived complexity, the user will be rewarded with a gratifying experience.
Ask just about any creative professional and they will most likely tell you they have suffered from a creative block. It's just a normal part of working in a career where your passions and talents meet.
In the past, we've been told not to use serif fonts due to its readability on low resolution monitors and poor rendering in WindowsXP. Now, with display technology advancing and IE7+ supporting ClearType by default, I think it is about time to change that rule. Take a look at the example sites that I've collected, you will probably agree with me that serif typeface will be the next web font trend.
Web development is time consuming and quite challenging. There are many ways to help combat that challenge, helpful applications from security to traffic analysis as well as CSS-concepts to give us clean, condensed code and faster load times, reducing time efforts and assisting designers and developers with critical improvements to workflows.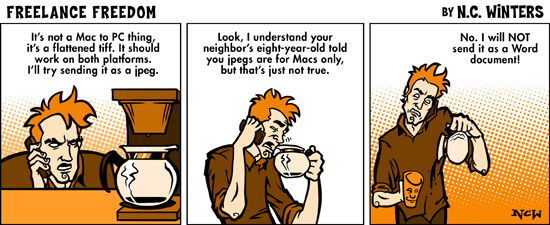 NOTE: If you come across a tutorial or article you think should be shared in ThemeForest's "Week in Review", please email [email protected] with the URL and the subject "Week in Review Recommendation".