Oct 02
Fri, 10/02/2009 - 22:27 — julie
It's been a big week for everyone at Envato including authors, buyers and staff. We have a fantastic new design for the marketplaces and the blogs as well as lots of great new templates and themes for sale. So let's take a look back at the week of September, 28.
Notable Catalog Additions
Every week we receive higher quality templates and themes than the previous week. Keep up the fantastic work authors! Let's take a quick look at six high quality templates new this week.
"Simple illustrated template suitable for any purpose."
"Midnight Creative is basically an illustrative portfolio template, which gives you that extra edge of uniqueness to your business. If you're a web design agency or a creative studio you should check this one out."
"WooiTuts is a html template for all of those ever wanted to create a cool Communtiy site, like an Tutorial blog, Tech blog or whatever type of blog you want to setup you can do it with WooiTuts. And now you can integrate it in to your favorite CMS ."
"Enlightened was created specially for people who want to sell their product and don't have a modern, easy to use solution for their presentation website. Enlightened has all the features needed to make your website stand out of the crowd and win you customers."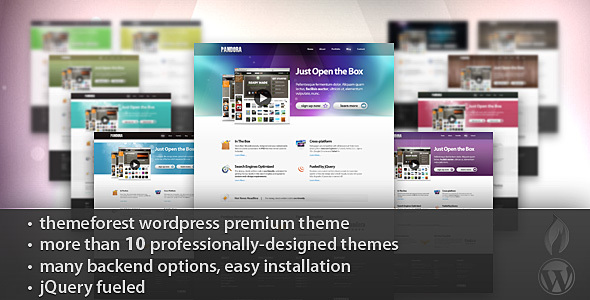 "Pandora is a WordPress Template, designed to promote anything from a corporate business to a portfolio site.
More than 10 professionally-designed and easy customizable themes comes as standard: Aqua, Crimson, Eco, Egypt, Modern, Mystery, Nebula, Ocean, Olive, Parquet, Podium, Startup."
"This theme is a complete Wordpress Theme, designed from the ground up to function first and foremost as a portfolio, then as a comprehensive Wordpress theme that can be used for just about any site that needs a beautiful layout."
Interview With Author jonathan01
Jonathan Atkinson is one of Theme Forest's very talented authors on his way up. This week I've asked him to answer a few questions for this week's "Week in Review" and here's what he had to say.
Q #1: When creating a new template for Theme Forest, what aspects are top priority and why?
A: "Well you know, it's really much much harder creating a stock template than it is for a client. Obviously when we receive a client job we know the business type, expectations of the functionalities of the site and most times a cleanly defined target audience or even examples of sites that the client likes. Without that comfort zone some people can find it difficult knowing what to create, when really, any well designed site is adaptable to 90% of business.
Good spacing is key to a great grid structure along with clear typography, couple this with a good use of color all make for a great design and should be the main building blocks for a template. It's really the small details that make up a template, I spend a ridiculous amount of time shifting things around on the screen, I can literally go through 6 designs before I get the one I am comfortable with. Think from a users point of view, where they want to click, where the main message should be and understanding the flow of a site is key.
You also have to see things from a buyers point of view. I make sure that all my layers are fully labeled, my code is clean, well spaced and commented and that my help documentation offers as much information as possible. Offering support is also a huge factor, I generally find that most issues are simply due to a lack of knowledge, and what takes me 2 minutes could take a buyer several days, being on the end of an email offers security to my buyers and I enjoy helping them meet their goals."
Q #2: You are this week's featured author. What tips for success can you share with our readers that you feel have contributed to your success?
A: "Hard work, really it's the key to most things in life. I try not to just pump-out as many things as I can, I prefer the smaller quantity, higher quality ratio myself and hope that it reflects in my portfolio here on ThemeForest and also in my client portfolio. Learning from others, as I have done, visiting the huge wealth of fantastic design blogs, tutorial sites and css galleries is an awesome way to gain inspiration and increase your talents.
It's difficult at first, especially if you have been freelancing for some time, to come here and design something and just expect it to be accepted – I can tell you that the standards for approval here are far higher than the majority of my freelance clients – and that is a great thing, and something buyers should be aware of is that when you buy that $15 template you are really receiving thousands of dollars worth of design and code work – it's a fantastic opportunity for those that don't have the larger budgets.
ThemeForest has such a broad and talented base of designers that it's great to see how new authors increase their talents over a short period of time, I put this down to two factors, great reviewers who help shape your design in the final stages, and then the peer pressure of wanting to be as good as the high fliers here at TF."
Q #3: What do you enjoy most about the work you do?
A: "Definitely the flexibility of my work schedule. I've done some pretty crappy jobs in my time, had successful business, worked for large corps, even freelanced for some huge agencies, but the single best job in the World is being your own boss and playing with photoshop all day."
Q #4: What are your top three pet peeves in design or web development?
A:
"Well I think the obvious one has to be the inconsistent display of web pages in the major browsers and the lack of following standards. I don't think anyone here at ThemeForest would disagree on that one!"
"Cousin Jethro of a client that read a book and thinks he can "design"."
"Internet explorer – not going to single any version out, just Internet Explorer."
Q #5: What are some tips or words of wisdom you would like to share with our readers?
A: "Don't miss the donut by looking through the hole."
Notable Forum Discussions
Here are some of this week's forum discussions worth checking out and chiming in on. If you've encountered any marketplace functionality bugs, make sure to check out the first one on the list. Also give Jeffrey your ideas on potential new badges!
Blog Review

This week's fantastic blog posts, featured authors and free files.
Web Roundup
There's a tremendous amount of information on the web and it's not always easy to find the cream of the crop. Here are some great tutorials and articles from around the web that are definitely worth checking out.
It sounds like an oxymoron, or at least an impossibility, doesn't it? How can a static language that's really more like markup than programming be object-oriented? In this tutorial, I'm going to introduce you to the idea of object-oriented CSS, show you how it works, and try to convince you that you should be using it too!
Search Engine Optimization is a rather complex and never ending process. You have to analyze a lot of things including what keywords people are searching for, the density of those keywords in your sites, how many sites link back to you, how popular your links are and so on. Doing all this manually can be a huge pain.
With that in mind, regardless of whether you're an SEO guru or a beginner, these twenty tools are guaranteed to make your life easier.
Winston Churchill once said: "Criticism may not be agreeable, but it is necessary. It fulfills the same function as pain in the human body. It calls attention to an unhealthy state of things." Regardless of where you work or who you work for, being able to take criticism is part of the job description. Whether you're getting feedback from your boss or a client, having a proper perspective on criticism and a sound understanding of how to use it effectively is important.
If you've been assigned to design or provide the architecture for a large e-commerce project or other information-heavy website whose success depends on content findability, it is vital that the design and layout of the search functionality for that website is considered carefully.
Copyright is as old as printing and as new as today. As freelancers, whether writing, designing for print or the Internet, broadcasting, filming, or creating music, you should be aware of your rights of ownership of your work as well as when you actually can't retain full ownership — the down side of selling your work for a living.
NOTE: If you come across a tutorial or article you think should be shared in Theme Forest's "Week in Review", please email [email protected] with the URL and the subject "Week in Review Recommendation".